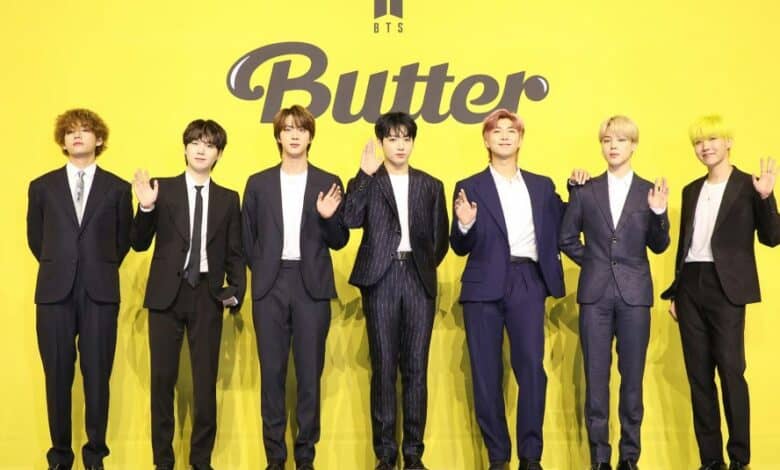 El grupo de K-pop BTS sube al escenario para regalar a sus fans un concierto virtual titulado Permission To Dance On Stage. El evento en línea se anunció después de que el grupo suspendiera su gira mundial Map Of The Soul debido a la pandemia de COVID-19.
BTS ha sido descrito como "fácilmente el nombre más grande y exitoso del K-pop en el mundo" que puede "hacer cosas que ningún otro [artista] en su género puede", y Time les dio el apodo de "Príncipes del Pop".
BTS ha recibido muchos premios y honores, incluyendo 33 Mnet Asian Music Awards, 29 Melon Music Awards, 24 Golden Disc Awards, 20 Seoul Music Awards, seis Korean Music Awards, 19 Gaon Chart Music Awards, nueve Billboard Music Awards, seis American Music Awards y seis MTV Video Music Awards.
BTS tiene una gran influencia social y, a partir de 2021, ha conseguido 23 Récords Mundiales Guinness -entró en el Salón de la Fama 2022 del organismo de los récords en septiembre de 2021-, incluido el récord mundial de mayor participación en Twitter.
— 📸 Fotos individuales de BTS en el concierto online "PERMISSION TO DANCE ON STAGE". @BTS_twt (1/9) pic.twitter.com/K0CPEJODRC

— abi 🌌💜 💫 – Jin OST 🐹 (slow estudios) (@kiss_seven7) October 24, 2021
Jungkook, Jimin and Hobi literally burning up the stage for #BTS's performance of "Fire" during #PermissionToDanceOnStage pic.twitter.com/9xD1zYjKM7

— Tiffany Vogt (@TVWatchtower) October 24, 2021
Jimin, Suga, Hobi and Tae serving ice-cold looks for a scorching performance of "ON" during #BTS's #PermissionToDanceOnStage concert pic.twitter.com/0Nt3tAXoYs

— Tiffany Vogt (@TVWatchtower) October 24, 2021
Jimin, Suga, Hobi and Tae serving ice-cold looks for a scorching performance of "ON" during #BTS's #PermissionToDanceOnStage concert pic.twitter.com/0Nt3tAXoYs

— Tiffany Vogt (@TVWatchtower) October 24, 2021